Toasters: Group 32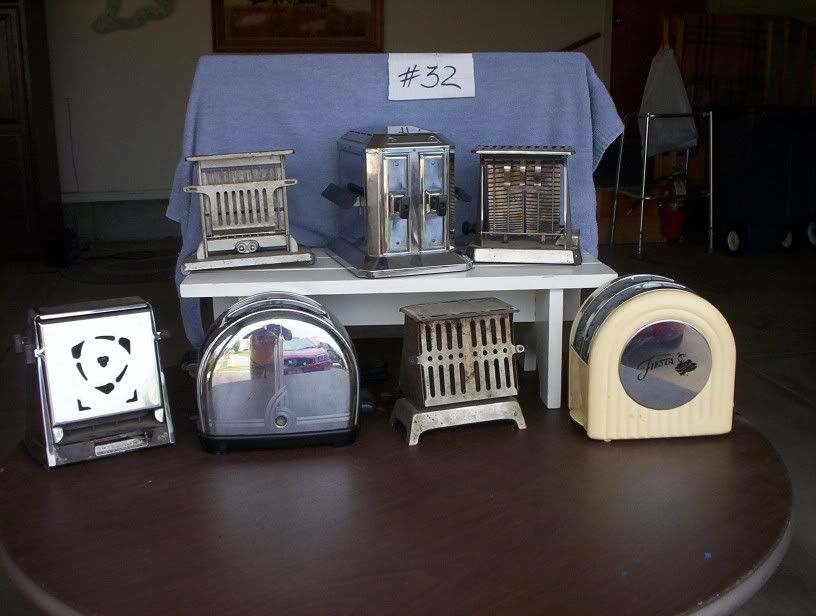 Top Row (L to R):
Universal (?)
, E-946, Not sure what this one is, says Great Britian #446348, but is 110V, does not have coil wire heating element & appears to have been painted, patent date is 1915, some rust, works, $25;
Coleman Toast Oven
, Model #1, Coleman Lamp & Stone co, Witchita, KS, has crumb tray in bottom, pull out trays for toast, small dent in top, works, $350;
Royal Rochester
, E-6402, Rochester Stamping Co, Rochester, NY, some rust spots, works, $100.
Bottom Row (L to R):
Red Seal
, #7052, S.U.C. #24, Red Seal Appliance Co, Rochester, NY, looks like a Seneca Model 7051 only this one has a mechanical timer, some paint missing on front, 1930s, works, SOLD;
Sun Beam
, T-9, American Sunbeam Corp, Chicago, minor cleaning scatches, but very good condition, everything works, $150;
Hold Heat
, Russell Elec Co, Chicago, missing 2 fiber disks, moderate rust, some dents, works, $10;
Fiesta
, Model TS-2012, Made in China,, needs lowering mechanism worked on, $10.